My humans get boxes all the time. This week they opened a box and it was all for me thank you to Creat With Joy for getting a chance to win some goodies.
I got a toy, food and a funny couch. Oh all these goodies just for me and a box too.
Toys are usually a night time thing. My way of keeping the humans up while they sleep. Since it was a new toy I needed to at least try it out. It chirped at me. I thought only real birds did that.
Next it was time to sample the food. MMMMM. I had to lick up all the wet yummy stuff before starting on the meat.
My new bird watching seat is comfortable. It fits in my space just purrrRRRrrrfectly. This is where I watch bird TV and squirrel TV take naps, and in general loaf.
Oh, thank you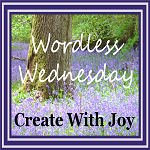 for all the goodies.
Until the next adventure,
Meowrrrr
Shadow the cat.